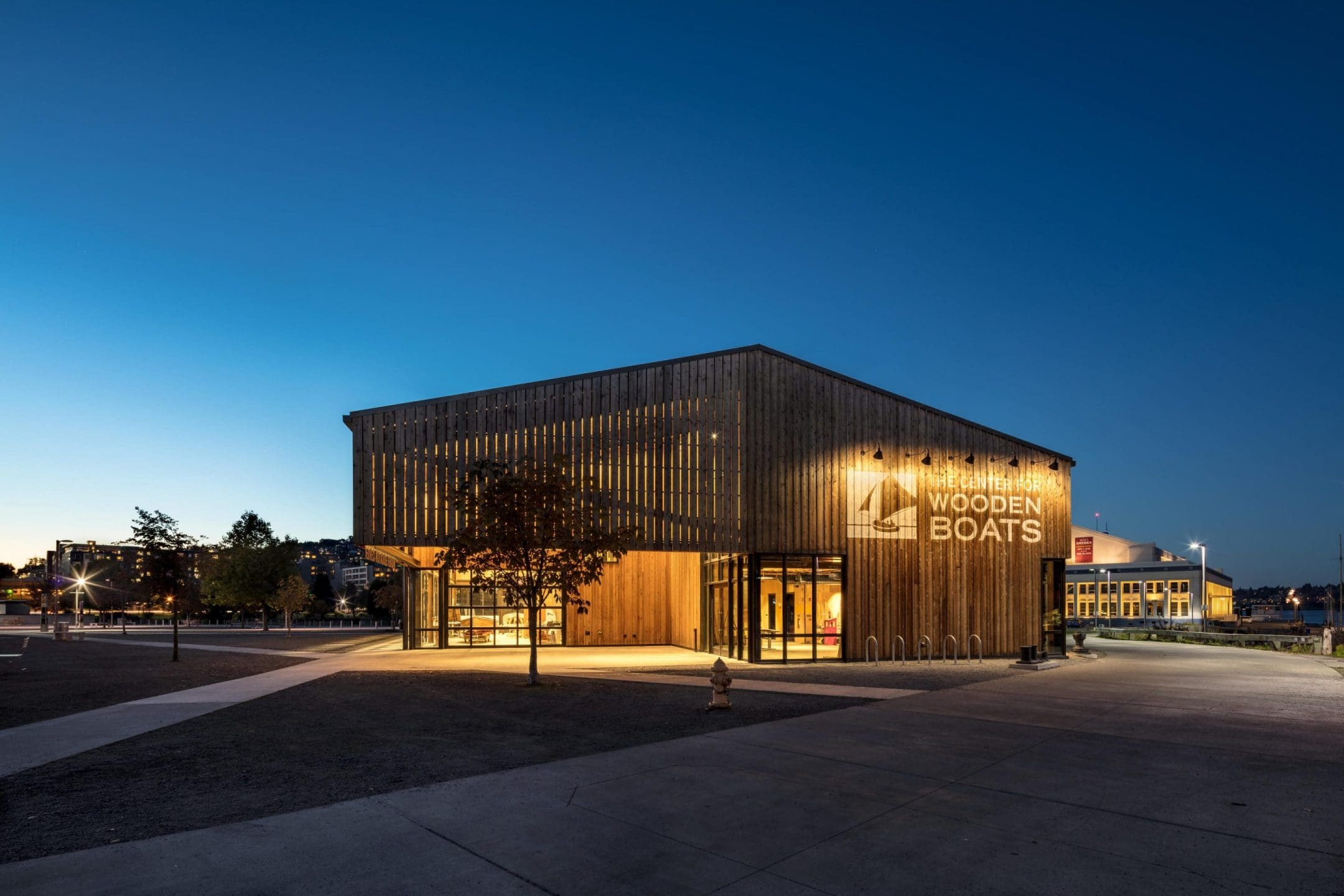 Wagner Education Center at The Center for Wooden Boats
Seattle, Washington
Wagner Education Center at The Center for Wooden Boats
Seattle, Washington
Design Principal

Tom Kundig
The new Wagner Education Center at The Center for Wooden Boats was carefully sited to fit within the existing park at Lake Union, while also presenting a more visible face to the city beyond. Hearkening back to the Northwest maritime history that has informed The Center for Wooden Boats (CWB) since its inception in 1976, the design for the new Wagner Center was inspired by the wooden boats on view within. The functional, straightforward building serves as an armature for CWB's activities, supporting the display, restoration and appreciation of wooden boats.
The new building houses a dedicated youth classroom that can be converted to a sail loft in the evening for events; new gallery and exhibit space; and a boat shop designed to facilitate the restoration of the museum's largest boats and the construction of new boats from historic designs. A double-height glass window wall and a large covered porch on the restoration hall puts the CWB's activities on public display, celebrating the historic boats for which CWB is most beloved. The ultimate goal of the new Wagner Center is to engage with a wider audience by revealing the boating artifacts and restoration work within, thereby exposing its wide range of programs to more people than ever before.
Designed for passive cooling in the relatively mild summer months – the building has no air conditioning – the occupants interact with it as they would a boat. A movable exterior shade system is designed to minimize solar heat gain in the summer and maximize it in the winter. The building's large operable doors and windows, as well as a series of operable skylights, are designed to naturally ventilate the building, which is done by hand. This mirrors the central tenet of sailing: that one must work with natural forces to make adjustments to optimize performance. The project also features a 46.5 kW PV array and is targeting LEED® Silver certification.
The architecture of the Wagner Education Center is intended to be a support vehicle for the repair, restoration and display of boats. It really is a boathouse in the truest sense – it's about the boats, not about the house.
Tom Kundig, FAIA, RIBA
Awards
2020
AIA Seattle Honor Awards for Washington Architecture, Award of Honor, 2020
2019
AIA Northwest and Pacific Region Design Awards, Merit Award
AIA Washington Council Civic Design Awards, Honor Award
Publications
2019
Gossett, Stephen. "A Sustainable Boat Center Sets Sail." Green Building & Design, 1 Jul. 2019. Web.
Gossett, Stephen. "A Sustainable Boat Center Sets Sail." Green Building & Design, July/August 2019, 38-43. Print.
"Wagner Education Center at The Center for Wooden Boats." ARCHITECT, 22 March 2019. Web.
"Washington academic center features movable panels and passive cooling." The Construction Specifier, 4 Apr. 2019. Web.
Whitaker, Denise. "Center for Wooden Boats celebrates $6.5 million expansion." KOMO News, 22 March 2019. Web.
Williams, Allison. "Art of the Seagoing Craft." Seattle Met, June/July 2019, 55, 56, 57. Print.