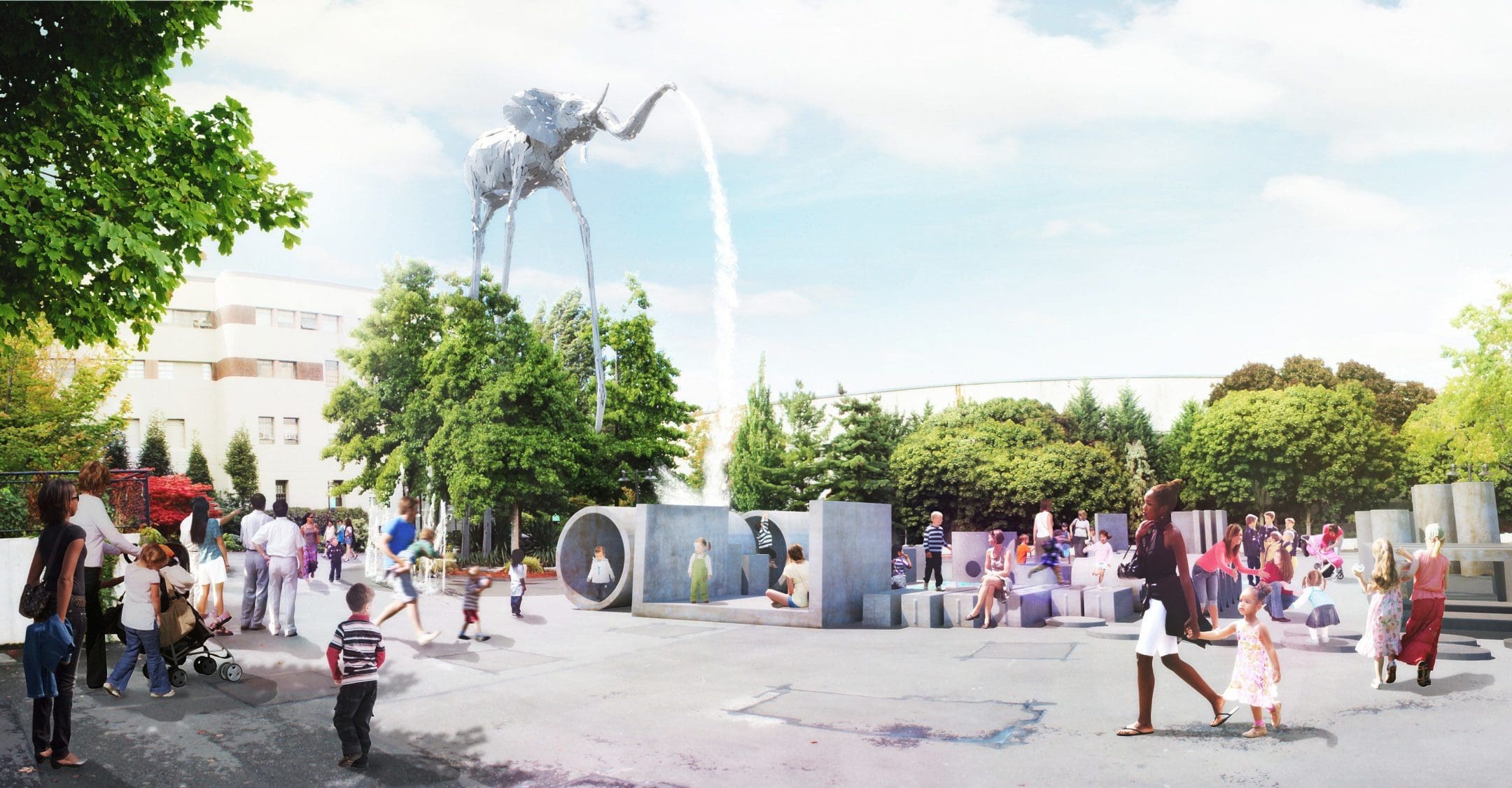 Elephant Dream (Artists at Play design competition submission)
Seattle, Washington
Elephant Dream (Artists at Play design competition submission)
Seattle, Washington
Design Principal

Alan Maskin
Surrealist artist Salvador Dalí once said, "Give me two hours a day of activity, and I'll take the other twenty-two in dreams." Elephant Dream is a design concept that reimagines the former Fun Forest at Seattle Center and encourages children and families to dream big. Inspired by Dali's fanciful creations, Elephant Dream is a modern labyrinth and climbing structure based on elements of physical play: climbing, crawling, jumping, running and hopping.
The heart and spirit of the playground is a spindly-legged elephant who watches over the dreamland and sprays water through its trunk onto those below. The elephant is, in turn, surrounded by a river of geysers. Weaving through it all is a labyrinthine climbing structure and obstacle course made from new and repurposed precast-concrete forms that spell out the word DREAM when viewed from the observation deck of the nearby Space Needle.
The design team was organized after the concept of the Bauhaus—Walter Gropius' multi-disciplined design school—which encouraged the idea of creative cross-pollination between traditionally separate disciplines. The final design and fabrication of Elephant Dream would be realized by a group of welders, sculptors, architects, digital artists, playground specialists, water play designers, building contractors, northwest plant specialists and structural and civil engineers.
Elephant Dream was a finalist for the Artists at Play design competition, a new family-focused venue on the grounds of Seattle Center, the site of the 1962 Seattle World's Fair.
Team
Design Principal

Project Manager