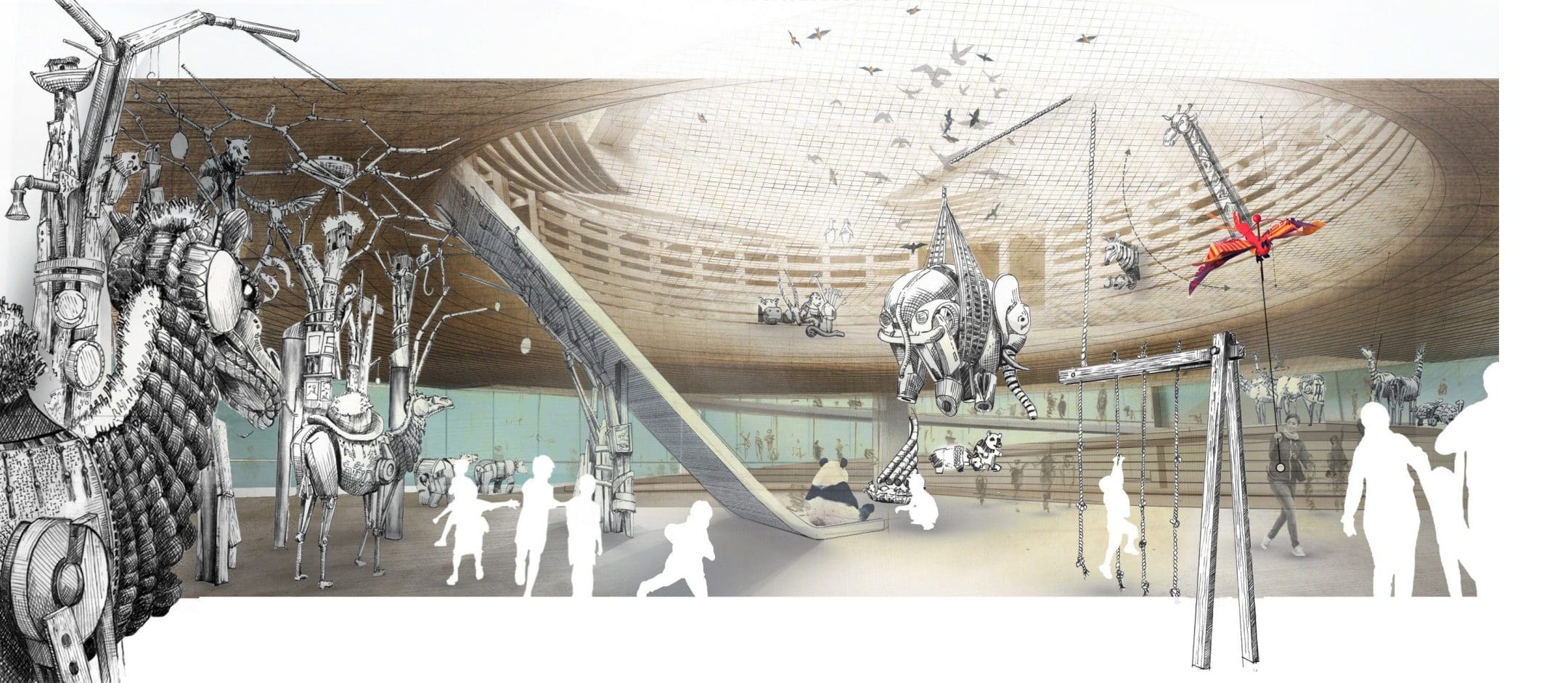 Jewish Museum Berlin Kindermuseum
Berlin, Germany
Jewish Museum Berlin Kindermuseum
Berlin, Germany
Designed by Alan Maskin, the Kindermuseum at the Jewish Museum Berlin is a new museum for children based around a modern retelling of the ancient story of Noah's Ark. The exhibits and architecture have been designed in unison to form an immersive museum experience.
Located directly opposite the Jewish Museum Berlin, the Kindermuseum is housed in the Eric F. Ross Building, a concrete and glass structure built in the 1960s that was formerly a wholesale flower market hall. The Kindermuseum is constructed as a "house-in-house" concept. The environmental buffer in the existing hall is utilized for a natural ventilation system to eliminate extensive mechanical systems.
Exhibits are incorporated seamlessly with the built experience of the space and are broken into specific zones that teach children about caring for the environment and the importance of supporting one another and working together. An intuitive visitor pathway features an original palette of more than 200 animals that will be fabricated by local artists and in children's workshops, using primarily organic and recycled materials
Our design approach was to create a modern retelling of the ancient story of Noah's Ark – an experience that provides a sense of hope and possibility to the people who will visit it.
Alan Maskin
Team
Design Principal

Principal

Architectural Staff
Publications
Publications
2017
"Costruire cultura ripartendo dai bambini." Pagine Ebraiche, 9 Sept. 2017, 16. Print.
Goldmann, Ayala. "Mehr Gegenwart wagen." Judische Allgemeine, 09 Mar. 2017, 3-6. Print.
Muller, Max. "Facelifting in Kreuzberg." Berliner Morgenpost, 7 Mar. 2017, 7. Print.
Muller, Max. "Grundschuler sind meine Experten." Tip Berlin, 23 Mar. 2017, 67. Print.
"Museo de los Ninos en el Museo Judio – Berlin." Future Arquitecturas, May 2017, 49-51. Print.