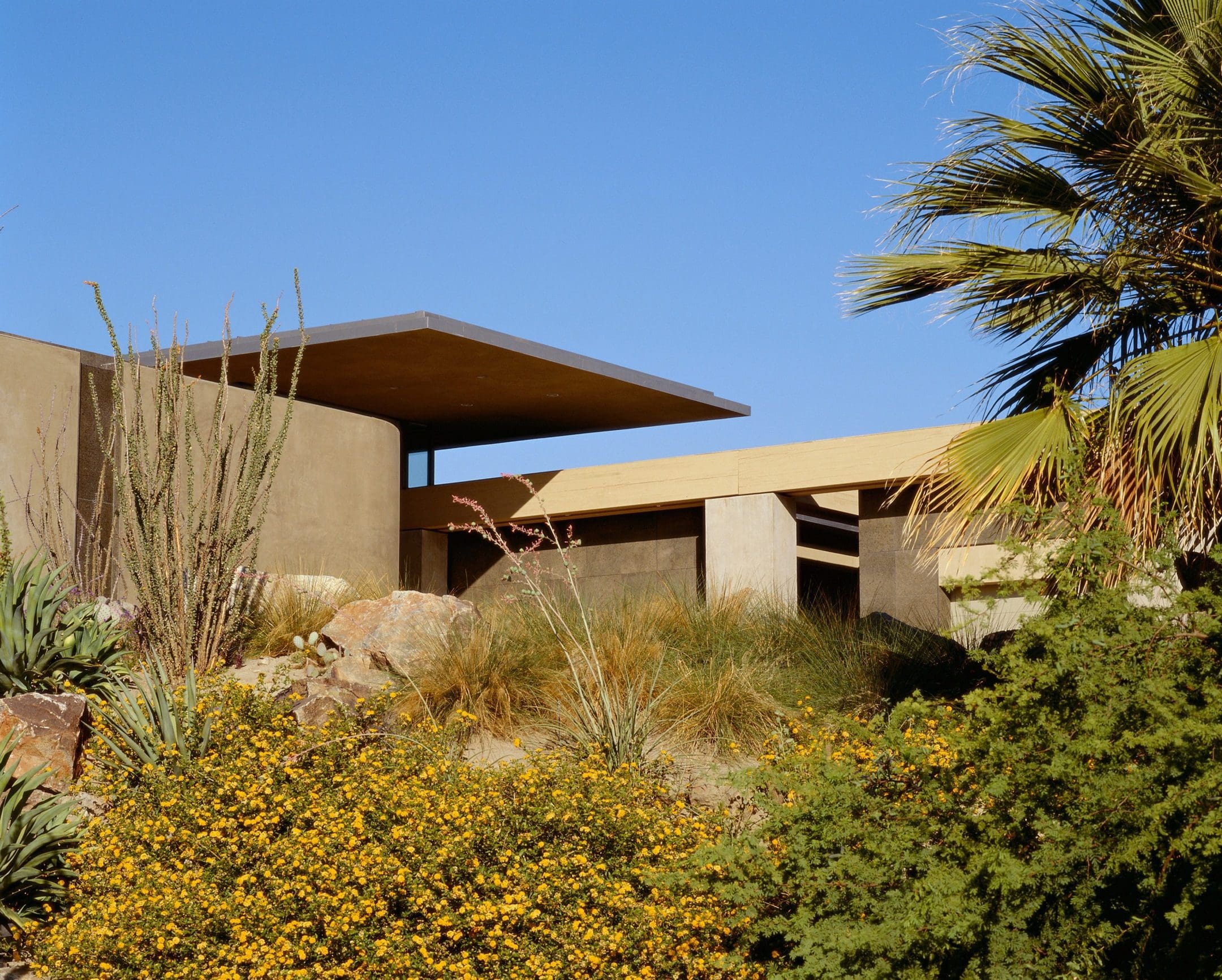 Desert House
Rancho Mirage, California
Desert House
Rancho Mirage, California
Design Principal

Jim Olson
Palm Springs was developed as a winter resort and a showcase of modernism through the 1950s, but after the advent of air conditioning, it was transformed into a twenty-mile sprawl of generic suburban developments. The Desert House recaptures the freshness of the first settlement. It is located on a ridge above an arroyo in a community that preserves the natural beauty of rocks and mountains and gives each plot a sense of privacy.
Natural materials—concrete, stone, stucco, and wood—blend with the earth tones of the surroundings. Broad overhangs provide shade yet allow the winter sun to warm the house, and the mass of the construction moderates the extremes of temperature. Two offset colonnades outside the living areas augment the interiors and provide architectural frames for art, and a cylindrical breakfast room with glass doors plays against the rectilinear facade. A central circulation spine, topped by a clerestory that diffuses natural light, extends from the entry to a garden plaza and reflecting pool. Generous public and more intimate private rooms open from this concourse, and the soft tones of walls and furnishings blend house and desert. Interior design by Terry Hunziker.
The movement of wind across water brings architecture to life and reflects the changing environment.
Jim Olson, FAIA
Team
Design Principal

Project Architect
Publications
2011
Schmid, Lydia. "Beton Liebt Grandezza." ELLE Decoration, Feb. 2011, 6, 116-123. Print.
2006
Beaver, Robyn. A Pocketful of Houses. Victoria: Images Publishing, 2006, 32-35, 104-107. Book.
Boschetti, Joseph. Water Spaces Vol. 4: A Pictorial Review. Victoria: Images Publishing, July 2006, 20, 104-105, 110-111, 134. Book.
2004
Harel, Hadar. "Modernism in the Desert." Home Design & Life Style (hDL), Dec. 2004, 90-108, 192-196. Print.
2003
Beaver, Robyn. Another 100 of the World's Best Houses. Victoria: Images Publishing, 2003, 72-73, 246-249. Book.
Trulove, James Grayson, and Il Kim. The New American House 4: Innovations in Residential Design and Construction. New York: Watson-Guptill, June 2003, 142-155, 214-223. Book.
2002
"Bold, Brilliant, Bravo: The Residences at Millennium." Alaska Airlines Magazine, March 2002, 2. Print.
Russell, June-Ann. "Desert bloom." Trends-Outdoor Living Vol. 18 No. 10, 2002, 20-25. Print.
Russell, June-Ann. "A place in the sun." Trends Vol. 18 No. 4, 2002, 34-41. Print.
2001
"Bold: The Residence at Millennium." Alaska Airlines Magazine, Dec. 2001, 12. Print.