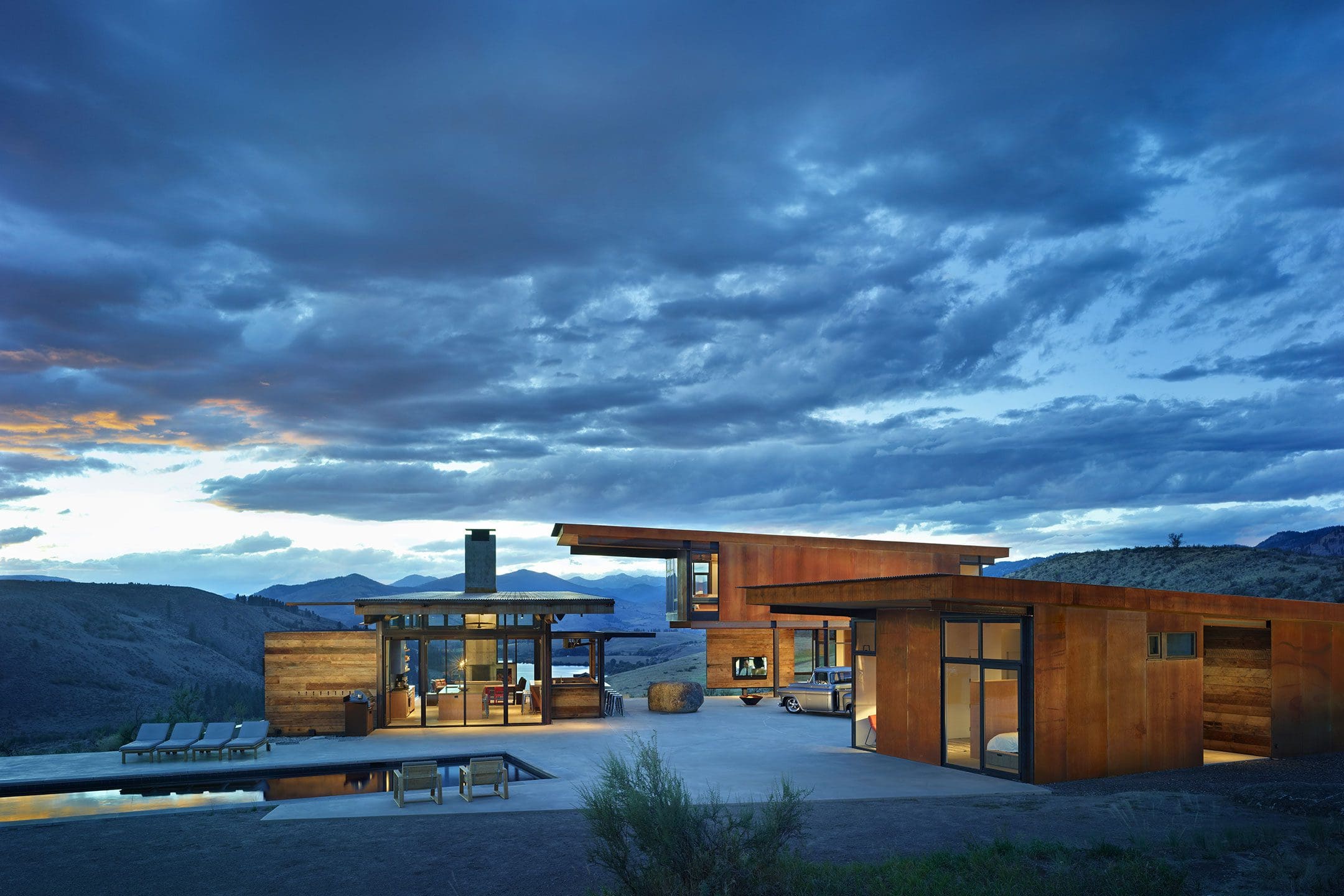 Studhorse
Winthrop, Washington
Studhorse
Winthrop, Washington
Design Principal

Tom Kundig
Set in the remote Methow Valley, Studhorse responds to the clients' desire to experience and interact with the surrounding environment throughout all four seasons. Riffing on the tradition of circling wagons, the buildings – four small, unattached structures – are scattered around a central courtyard and pool.
Studhorse exemplifies the architect's belief that his job is to create an experience of place. Traditional boundaries between the built structure and its surroundings are purposefully blurred, forcing the clients to experience the site and nature. With the four buildings positioned to spill open to the central courtyard, the design is oriented toward family life and entertaining.
Tough building materials, mostly steel and glass, were utilized to stand up to the equally tough environmental conditions – from hot, fire-prone summers to winters with heavy snow pack. The wood siding was salvaged from an old barn in nearby Spokane, WA. Over time as the wood and steel weather, the home will become more and more muted in appearance, further blending into the landscape.
Second homes are about adventure, and they are the homes that leave the most indelible memories. The best way to do that is to make them unconventional.
Tom Kundig, FAIA, RIBA
Team
Design Principal

Project Manager

Interior Designer

Debbie Kennedy


Staff
Awards
2015
AIA National Housing Awards, AIA Housing Award for Architecture
Publications
2018
Bradbury, Dominic. The Iconic House. London: Thames & Hudson, Oct. 2018, 352-355, 359-360. Book.
Campagnoli, Marelle. "Campement Familial." Architectures A vivre, Fall 2018, 8, 184-195. Print.
Cornachio, Jon. "Machines For Living: The Spectacular Kinetic Facades of Olson Kundig." Architizer, 14 May 2018. Web.
2017
Attanasio, Joseph. "25 Photos of a Masterfully Built 20-Acre Property Nestled in a Remote Glacial Alley." Airows, 20 March 17. Web. 
Martin, Hannah. "Glass Houses with a Clear Sense of Style." Architectural Digest, 23 Feb. 2017. Web.
McLaughlin, Katy. "Spend The Summer in Ski Country." The Wall Street Journal (Central Ed Ohio), 3 Nov. 2017, M1, M6, M7. Print.
Plockova, Joann. "Home on the Ranch." Christie's International Real Estate, Spring 2017. Print.
Rodrigues, Delilah. "A Place Called Home." The Ideal Home & Garden, March 2017, 60-67. Print.
"Top 5 Homes of the Week that Embrace Seclusion," Dwell, 21 April 2017. Web.
"TOM KUNDIG – DE 3 MEEST WAANZINNIGE HUIZEN VAN DEZE AMERIKAANSE MEESTER." MadPac, 2 Feb. 2017. Web.
Van Uffelen, Chris. "Studhorse, Winthrop, WA, USA." Living in Wood. New York: Braun, 2017, 10-13. Book.
Wright, Richard. "Studhorse." Hearth and Home, Aug. 2017, 32-35. Print.
"кЪща за аванмюрчсмч" наш дом, Feb. 2017, 40-45. Print.