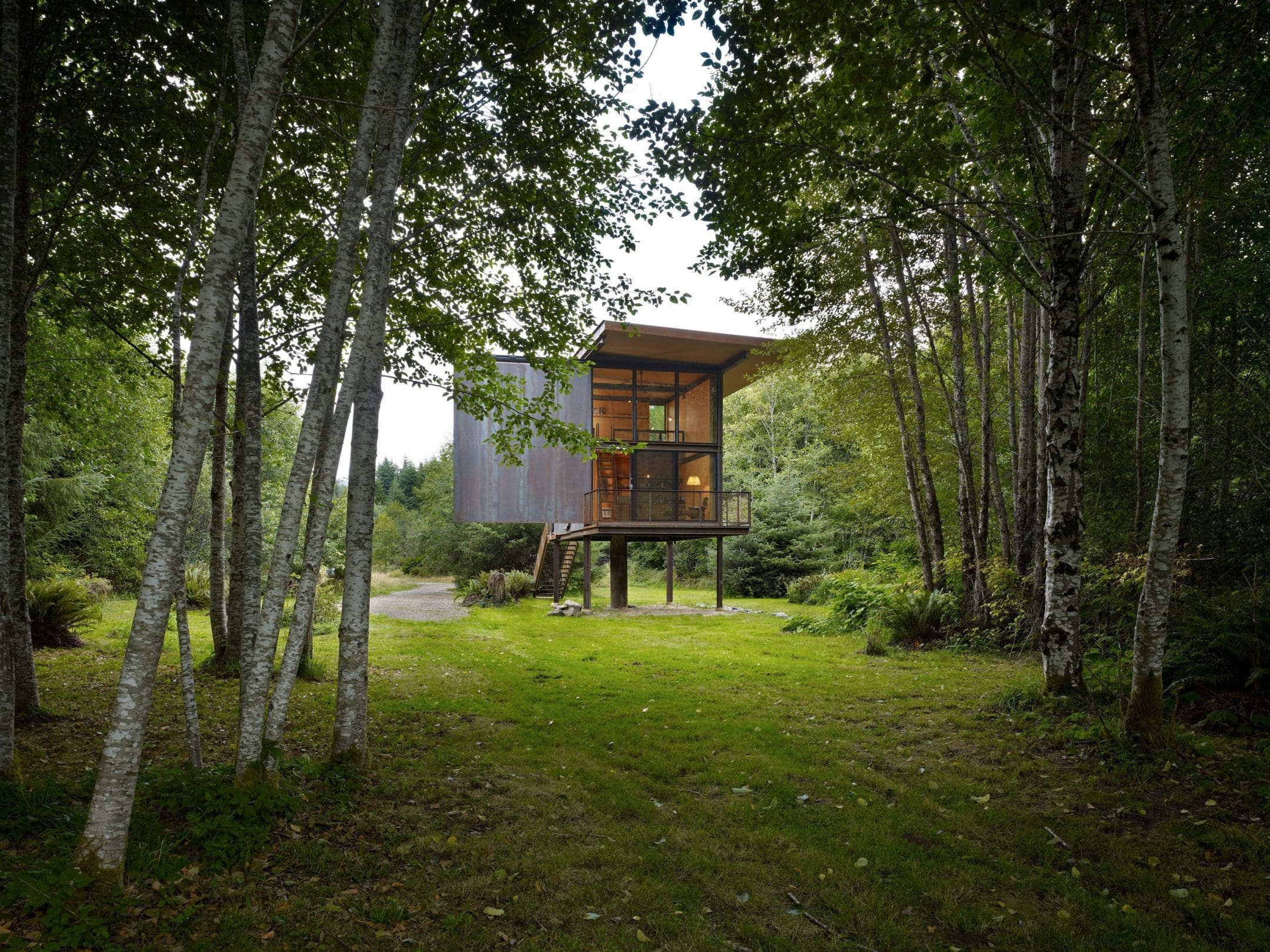 Sol Duc Cabin
Olympic Peninsula, Washington
Sol Duc Cabin
Olympic Peninsula, Washington
Design Principal

Tom Kundig
This 350-square-foot cabin is a small perch for its occupant. The cabin is raised up above the landscape with a view out onto the Sol Duc River. The cabin is located in one of the few temperate rainforests of the world, and "rainforest" here means wet and rather cold, as opposed to wet and hot. Putting the cabin on stilts protects it from the clammy dampness and occasional flooding.
The owner is an avid steelhead fisherman, and Sol Duc River has some of the best steelhead fishing in the state. The design allows him and his wife to arrive at this remote location, open up the cabin, and get to fishing as quickly as possible.
The shutters are operated manually via custom steel rods. The large panels slide on hardware that was originally designed for sliding barn doors, attached to the steel roof beam structure. The cabin seals up entirely when not in use and is virtually indestructible – it's made of unfinished, mild steel and structural insulated panels. Most of the cabin was prefabricated off-site, which minimized construction waste and site disruption.
I don't think I could ever design something as beautiful as what's already here. We're here to frame the landscape, create an experience of place, and perhaps bring some of that experience – the intimacy, the vulnerability – inside the house.
Tom Kundig, FAIA, RIBA
Team
Design Principal

Project Manager / Project Architect
Awards
2014
AIA National Housing Awards, Architecture, Housing Award
AIA Northwest and Pacific Region Design Awards, Design Award
AIA Pacific Northwest Region, Honor Award
2011
AIA Seattle Honor Awards, Merit Award
Publications
2017
小埠南岭生态城. "设计个随意门,将美景揽入怀." Wzaobao, 4 Jan. 2017. Web.
"Epic Steel-Clad Fishing Cabin Designed by Olson Kundig Architects." Homesthetics, 18 Jan. 2017. Web.
Jodidio, Philip. "Olson Kundig Architects." Small Architecture, Cologne: Taschen, Mar. 2017, 368-373. Print.
Kramer, Sibylle. "Nomadic Living: Relocatable Residences." Cologne: Braun, 2017, 164-169. Book.
"La cabane Sol Duc." Tresors, 5 Jan. 2017. Web.
Redakteur. "Epische Stahl Verkleidet Angeln Kabine Olson Kundig Architekten." Haus Deko, 18 Jan. 2017. Web.
"TOM KUNDIG – DE 3 MEEST WAANZINNIGE HUIZEN VAN DEZE AMERIKAANSE MEESTER." MadPac, 2 Feb. 2017. Web.
Williams, Allison. "Architect Tom Kundig Is the King of Cabin Porn." Seattle Met, June 2017, 55-57. Print.
Williams, Allison. "Architect Tom Kundig Is the King of Cabin Porn." Seattle Met, 15 May 2017. Web.