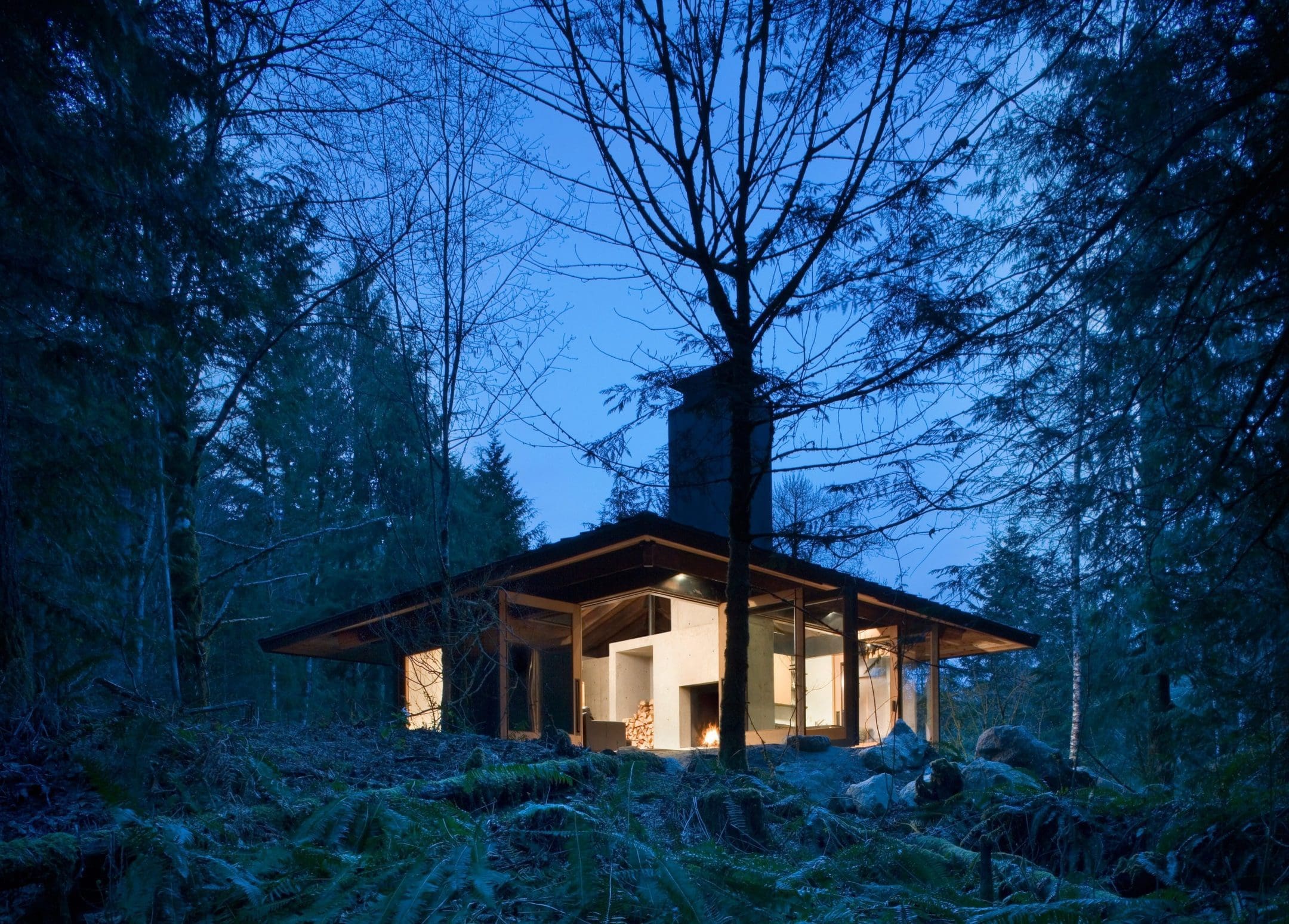 Tye River Cabin
Skykomish, Washington
Tye River Cabin
Skykomish, Washington
Design Principal

Tom Kundig
Situated in a dense forest near the Tye River, this meditative retreat connects to the natural environment that surrounds it.
The square base of the two-level structure is rendered in cast-in-place concrete, as is the large central fireplace that serves as the core and anchor for the cabin. Custom-designed, pivoting glass windows swing open to reveal the corners and sides of the space, blurring the line between inside and outside. Rusted mild steel siding wraps the exterior areas not given over to windows. Deep overhangs shelter the main living area from the regular rain showers. Concrete patios extend the living space outdoors and follow the contours of the land toward the water.
The cabin is about being outdoors, not indoors. The two bedrooms and bathroom are just large enough to fulfill their functions. The wood used for construction—for rafters, flooring, window frames, and doors—was salvaged from an old warehouse slated for demolition. The varying tones of the wood reveal its history and use. Over time, the cabin will become more and more muted in appearance, blending in and eventually disappearing into the forest.
Team
Design Principal

Project Manager
Awards
2009
AIA Northwest and Pacific Region Honor Awards, Merit Award
2007
AIA National Housing Committee Awards, Committee Award
Chicago Athenaeum American Architecture Awards, American Architecture Award
2006
AIA Seattle Honor Awards, Merit Award
Publications
2009
Albert, Fred. "Small by Nature." Metropolitan Home, June 2009, 100-107. Print.
2008
Teagarden, Rebecca. "Retreat at the River." Inhabit, Spring 2008, 21-26. Print.