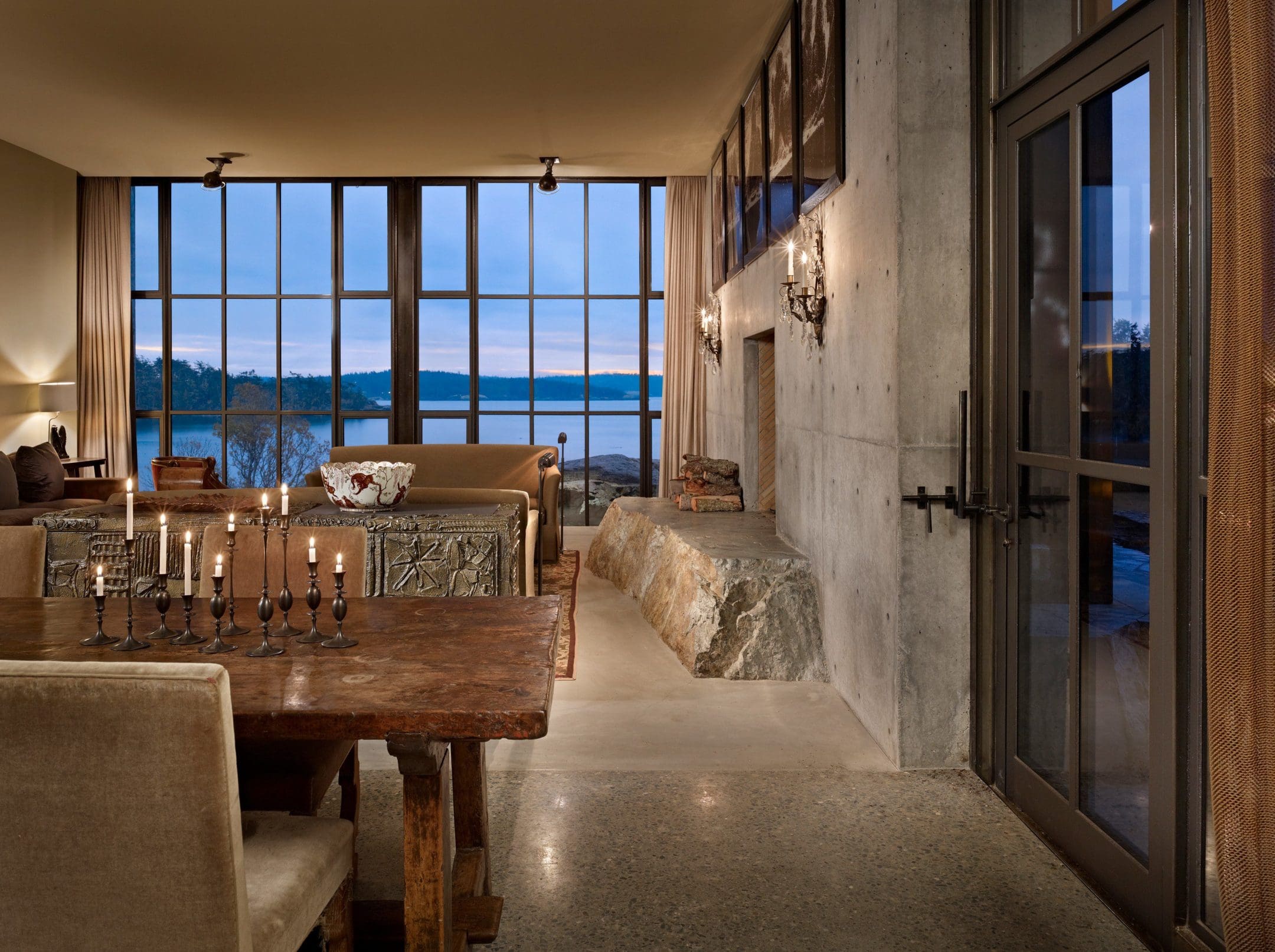 The Pierre Interiors
San Juan Islands, Washington
The Pierre Interiors
San Juan Islands, Washington
The materiality of The Pierre—mild steel, smooth concrete, and drywall—creates a neutral backdrop for the interior furnishings and artwork and the exterior views to the bay and surrounding landscape. With deep connections to Pacific Northwest modernists including Jean Jongeward, the owner of this home sought to recreate touchstone moments from her life through art and interior design.
With the exception of a separate guest suite, the house functions on one main level, with an open-plan kitchen, dining, and living space. A wood-clad storage box (made with siding reclaimed from a Lionel Pries–designed house) transitions from outside to inside. Its two large bookcases open to provide concealed access to laundry and kitchen storage. A large pivoting steel and glass door provides access to a terrace.
Contemporary works of art by Cameron Martin, Jesse Paul Miller, Andres Serrano, Franz West, and Claude Zervas are mounted inside and outside the house. Antique furniture and art objects are complemented by custom pieces. Interiors by Olson Kundig, in collaboration with the client.
Throughout the house, the rock protrudes into the space, contrasting with the luxurious textures of the furnishings. Interior and exterior fireplace hearths are carved out of existing stone; leveled on top, they are otherwise left raw. In the master bathroom, water cascades through three polished pools, natural sinks in the existing stone. Off the main space, a powder room is carved out of the rock; a mirror set within a skytube reflects natural light into the space.
A bronze shield (c. 1970) forged by sculptor Paul Evans floats atop reclaimed siding from a nearby cabin designed by architect Lionel Pries. Together, they form a custom-assembled cabinet rich in texture and history. Set at a right angle to the main space, a master suite features a custom-designed bed with a leather headboard and footboard set in the middle of floor-to ceiling bookshelves. Seattle craftsman Rob Folendorf copied photos of rock walls from an existing cabin on site to create custom handwoven wool tapestry for the dining chairs. The arms are wrapped in leather by Holly Hunt. The custom light fixtures are based on the designs of Irene McGowan, a Seattle artist and lighting designer best known for her work with noted Northwest architect Roland Terry.
Team
Design Principal

Interiors Staff
Awards
2014
AIA National Honor Awards, Architecture Award
AIA National Honor Awards, Interior Architecture Award
2013
Architizer A+ Popular Choice Awards, Finalist, Residential Single Family Home
2012
AIA National Housing Awards, Housing Award
AIA Northwest and Pacific Region Honor Awards, Honor Award
AIA Seattle Honor Awards, Honor Award
Builder's Choice Design & Planning Awards, Builder's Choice Grand Award
Chicago Athenaeum American Architecture Awards, American Architecture Award
International Interior Design Association Interior Design Awards, Interior Design Award, Best of Competition
2011
Northwest Design Awards, First Place: Exotic Retreats
Washington Aggregates & Concrete Association, Excellence in Concrete Construction
2010
World Architecture News House of the Year Awards, House of the Year
Publications
2012
Fatih, Driss. Pure Luxury: World's Best Houses: 100 Great Houses. Victoria: Images Publishing, 2012. Book.
Giuffo, John. "Incredible Fortress Homes With Moats, Bullet-Proof Glass And Concrete Walls." Forbes, 11 May 2012. Web.
"IIDA 2012 Interior Design Awards." International Interior Design Association, 2012. Print.
Jodidio, Philip. Architecture Now! Vol. 8. Cologne: Taschen, March 2012, 328-335. Book.
Kellogg, Craig. "IIDA Awards: The Foundation Stone." Interior Design, May 2012: 170-174. Print.
Kellogg, Craig. "IIDA Awards: The Foundation Stone." Interior Design, May 2012: 170-174. Print.
Saieh, Nico. "The Pierre / Olson Kundig Architects." ArchDaily, 19 July 2012. Web. 
"The Pierre by Olson Kundig Architects." Seven Hills Premium, May 2012, 20-21. Print.
Welton, J. Michael. "Tom Kundig's House of Rock" Architects + Artisans, 15 March 2012. Web.
2011
"Award-Winning Carving." Grand Designs Magazine, 1 May 2011. Print.
Keates, Nancy. "Top Architects Go Local." The Wall Street Journal, 31 Dec. 2011: D1-2. Print.
"Kundig design is named WAN House of the Year." Seattle Daily Journal of Commerce, 23 Feb. 2011. Print. Web. 
Monie, Karine. "Un Escondite En Las Piedras." Architectural Digest Mexico Feb. 2011, 106-116. Print.
Patel, Riya. "The Pierre by Olson Kundig Architects." Icon Magazine, 25 Feb. 2011, 50-51. Print. Web. 
Viladas, Pilar. "Aussen Roh, Innen Diamant." ELLE Decoration Germany, Oct. 2011, 158-167. Print.
Viladas, Pilar. "Rock Ster." Eigen Huis & Interieur, June 2011, 174-185. Print.