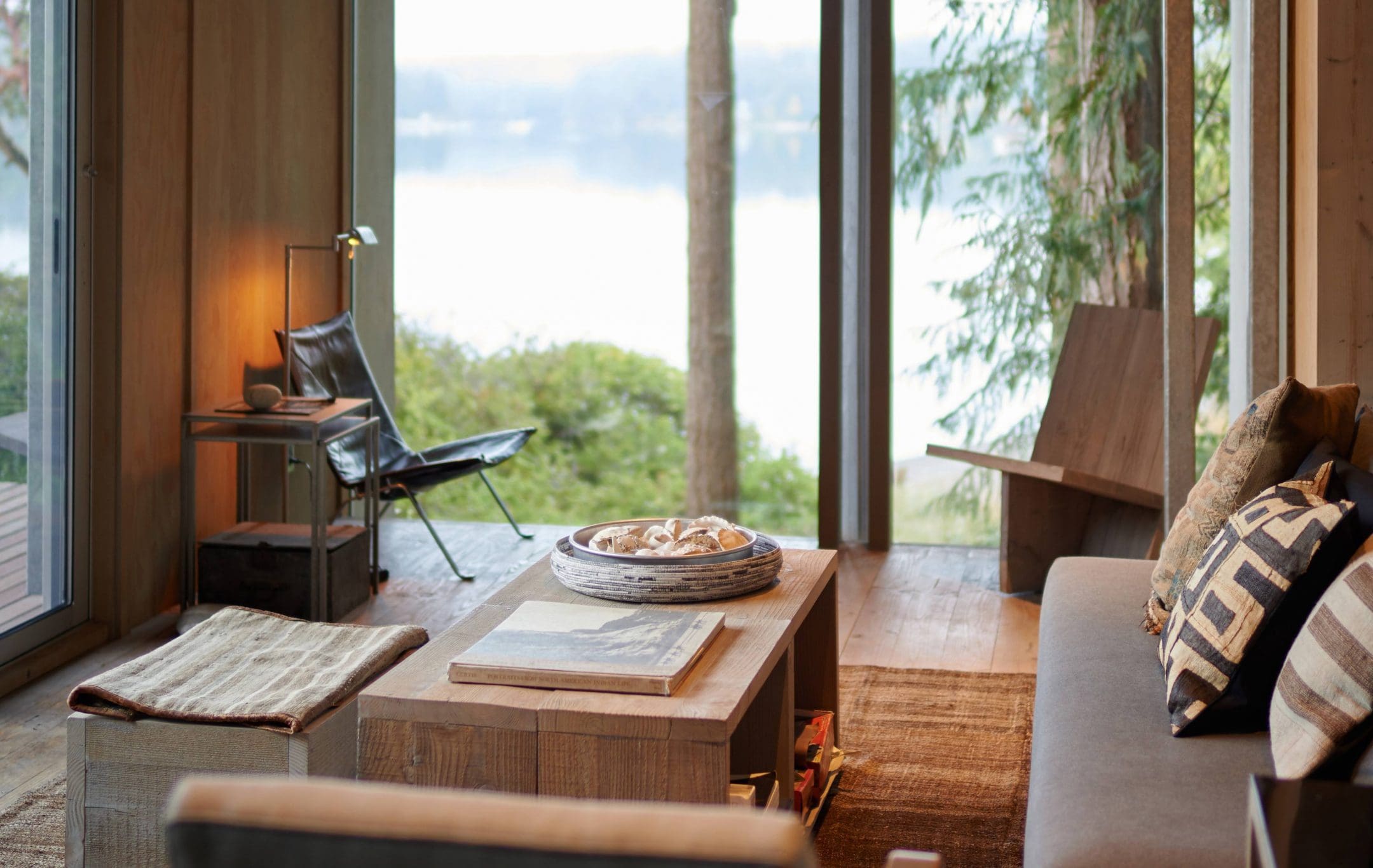 Longbranch Interiors
Longbranch, Washington
Longbranch Interiors
Longbranch, Washington
At the age of eighteen, Olson began work on a bunkhouse for his family in Longbranch. Since then, he has continued to expand the small structure into both a private retreat and a touchpoint for his work worldwide.
The cabin is intentionally subdued in color and texture, allowing the lush natural surroundings to take precedence. Simple, readily available materials are used throughout: wood-framed walls are sheathed in plywood both inside and out; doubled pairs of steel columns support glulam beams that, in turn, support an exposed roof structure; and interior fir flooring becomes outdoor decking with additional spacing.
The rooms themselves are essentially a set of boxes set underneath a unifying roof; together, they create a single form that is grounded onto the hillside and projects out over the landscape. The living room's large 11' x 13' window not only frames the view of the adjoining meadow and Puget Sound but visually blends the indoors and outdoors.
My love of nature and of being outdoors has led me to explore ways to break down the barriers between inside and outside. Here, rocks inside the house visually merge with rocks placed outside to blur the line between inside and outside.
Jim Olson, FAIA
Publications
2014
Cohen, Edie. "Hall of Fame: High in the sky or deep in the country, what kinds of spaces fo Hall of Fame members live in?" Interior Design, 1 Dec. 2014, 91. Print.
Jodidio, Philip. "Olson Kundig Architects." Small Architecture Now! Cologne: Taschen, May 2014, 258-261. Book.
2009
"Tiny but Giant Houses." Casa Living, Sept. 2009, 134. Print.
2008
de Castro, Mario. "A Place in the Woods." Monocle Vol. 1 No. 10, Feb. 2008, 116-119. Print.
"En Armonia con la Naturaleza." Arquitectura y diseño No. 90, Summer 2008, 97-106. Print.
2007
Tremblay, Céline. "A Quiet Statement on Puget Sound." Living With Style/Plaisirs de Vivre, Sept. 2007, 128-141. Print.
Tremblay, Céline. "Un Murmure a Puget Sound." Living With Style/Plaisirs de Vivre, Sept. 2007. Print.
1990
Canty, Don. "Vacation Retreats Exemplify Architecture in Northwest." Seattle Post-Intelligencer, 4 June 1990, 1-2. Print.
1988
Flanagan, Barbara. "Bough House: The Home as Hammock." Metropolitan Home, June 1988, 78-84. Print.