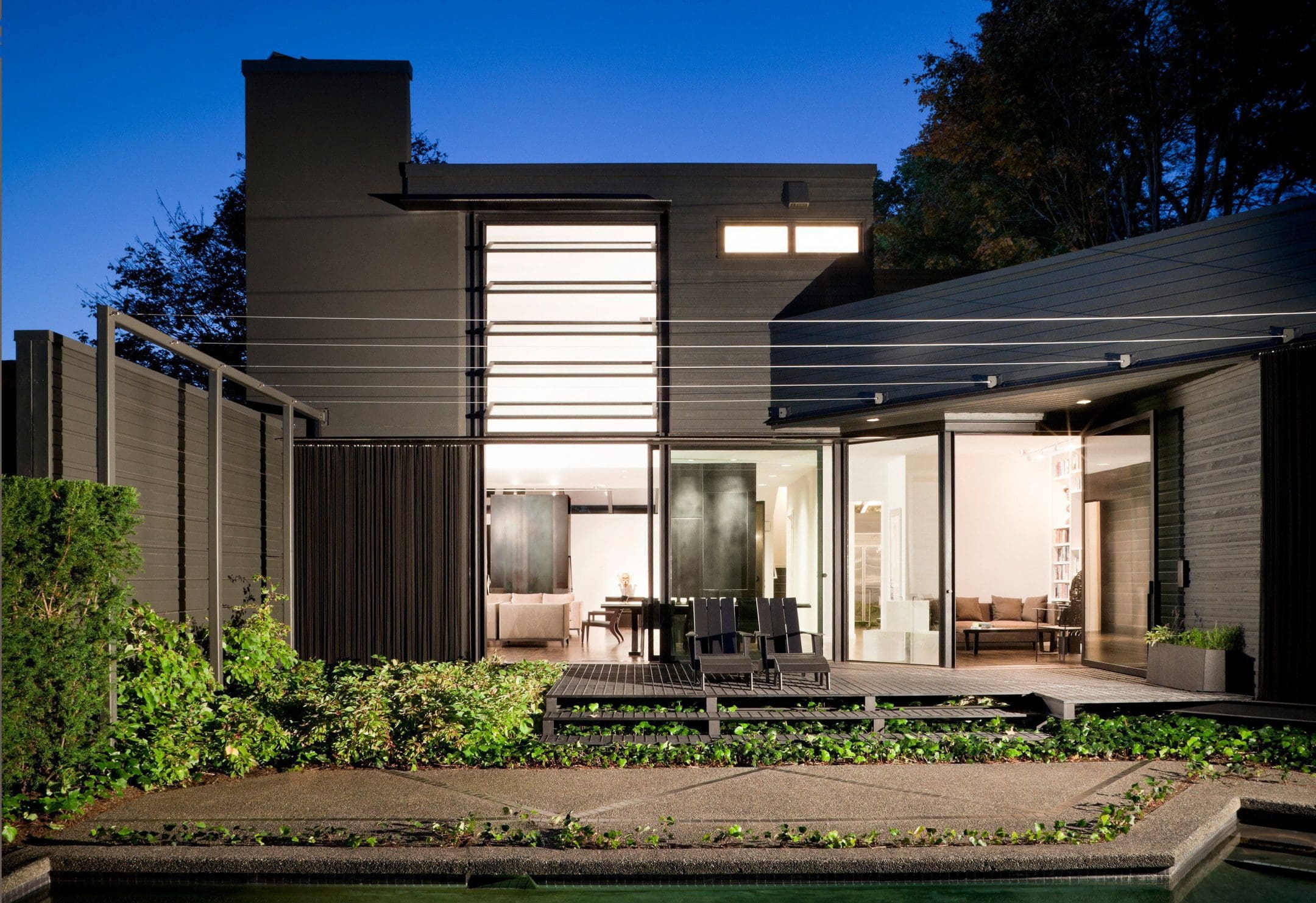 Kuruma House
Seattle, Washington
Kuruma House
Seattle, Washington
Design Principal

Tom Kundig
The project is a remodel of an existing house in the Capitol Hill neighborhood of Seattle. Bringing light into the home and creating a stronger connection to the outdoors were important aspects of the renovation. In addition to extensive skylights, the rear of the house was transformed with the addition of a 10'x10' custom designed jalousie window, and large sliding and pivoting windows and doors. On the upper level, sliding glass doors in the master bedroom provide access to an exterior deck with built-in plantings.
While the floor plan of the house does not deviate significantly from the original 1970's design, the interior was updated to provide a comfortable space to live and work. A simple, dark material palette provides a unified backdrop for elements that carry significant personal connection for the client. Hot rolled steel and black-stained oak floors are used throughout the house, while the walls are a neutral white. Many of the home's furnishings were custom designed, including a coffee table, cabinets, the master bed and a custom rolling office "kuruma"—a modern interpretation of a traditional wheeled storage chest – which can either be docked next to the powder room or serve as a room divider and focal point in the living space.
The owner has several cats, and one of the challenges of the remodel was designing unobtrusive ways to keep them in certain areas of the house. Strategies include metal mesh screens in the bedroom and living room that run on top and bottom tracks. The mesh also acts as a shading device that significantly reduces unwanted solar heat during the summer months.
I think steel is quite beautiful. When finished correctly, it's not aggressive or cold. I think its warmer and softer looking than polished granite or mirror. I like to balance steel and wood. I think of it as a yin‑yang balance of the nature and the man‑made, the timeless and the contemporary. 
Tom Kundig, FAIA, RIBA
Publications
2015
Boyle Mays, Stephanie. "Open Air Living." Portrait Vol. 31, 2015, 92-101. Print.