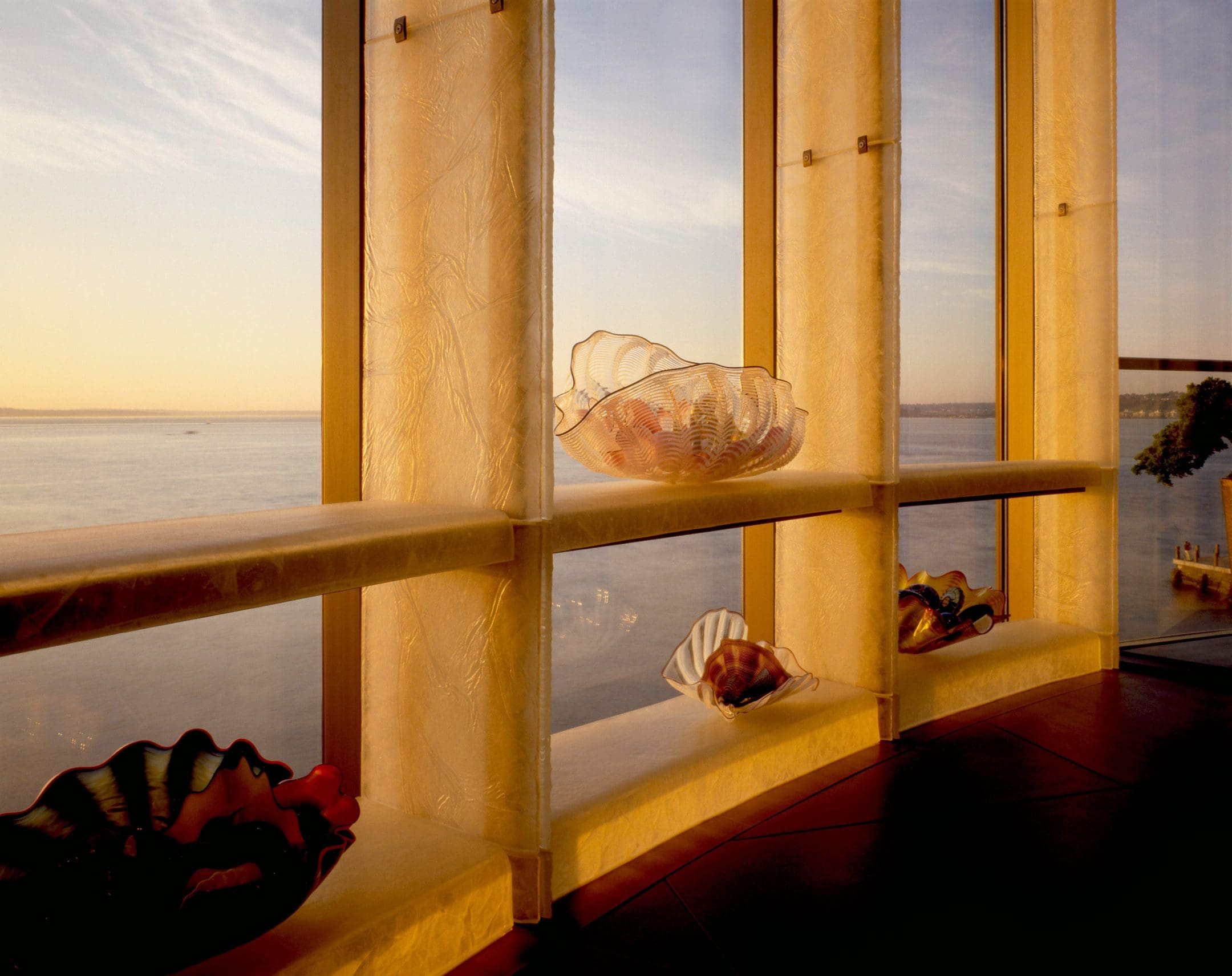 Glass Apartment
Seattle, Washington
Glass Apartment
Seattle, Washington
Design Principal

Jim Olson
The owner's collection of glass sculpture and the sweeping view over Elliott Bay inspired this fluid sequence of spacious and intimate rooms on the fourth story of a five-story condominium block. Kilnmelted glass was pressed over metal forms to make floor-to-ceiling translucent, curving partitions. Light travels freely through the rooms, stopping only at the dark, oak-paneled study. The white palette reflects and diffuses the natural illumination, glowing like the famous oyster light of the Northwest.
The translucent wall panels, crafted by artist Peter David, serve as a backdrop for the organic forms of multicolored glass bowls and sculptures by Dale Chihuly, William Morris, and other Northwest artists.
A custom designed table by Jim Olson speaks to the Pacific Northwest's logging heritage. Conceived as a "lily pad," the table's design is a nod to the thin wooden discs left behind on Puget Sound by logging companies. Set on a cast bronze surface, the precisely placed glass inlays draw attention to the multitude of tree rings. Intended to be placed next to a window overlooking Elliott Bay, the clear glass base allows light to flow unimpeded into the apartment. The table was made by custom furniture fabricator Steve Clark and glass artist Peter David.
Custom pieces like the walnut burl and bronze coffee table enhance the warm composition of the living room. The custom slipper chairs and settee, also designed by Olson, are accented by handwoven pillows by Rob Folendorf. Serpent by artist Guy Anderson hovers above. The bronze chairs, also designed by Olson, serve as sculptural pieces flanking the fireplace in the living room. With a heavy bronze frame and back support, the chairs feature solid walnut backrests and leather seats and were fabricated by Seattle-based Gulassa & Company.
Team
Design Principal

Interior Designer
Awards
2005
Northwest Design Awards, Northwest Design Award
Publications
2009
Pfeiffer, Louise. "The Case of the Glass Apartment." American Lifestyle, Oct. 2009, 24-31. Print.
"Think outside the square." Home & Living Trends Vol. 21 No. 9, 2009, 66-75. Print.
2006
"Think outside of the square." Southeast Asia & The Gulf: Home & Apartment Trends Vol. 22 No. 11, 2006, 70-79. Print.
Trends Very Best: Kitchens & Bathrooms. New York: Time Home Entertainment Inc., May 2006, 110-115. Book.
2005
"Beneath the Surface." Bathroom Trends Vol. 21 No. 5, 2005, 68-73. Print.
2004
"50 of the World's Best Apartments." Victoria: Images Publishing, 2004, cover, 124-131, 156-163. Book.
Albert, Fred. "Seattle Modern." Art & Antiques, Sept. 2004, 54-59. Print.
Nicholson, Mia. "Sea Fare." Seattle Homes & Lifestyles, Feb. 2004, 66-71. Print.
"NW architects win 4 national awards." Seattle Daily Journal of Commerce, 12 Jan. 2004, cover. Print.