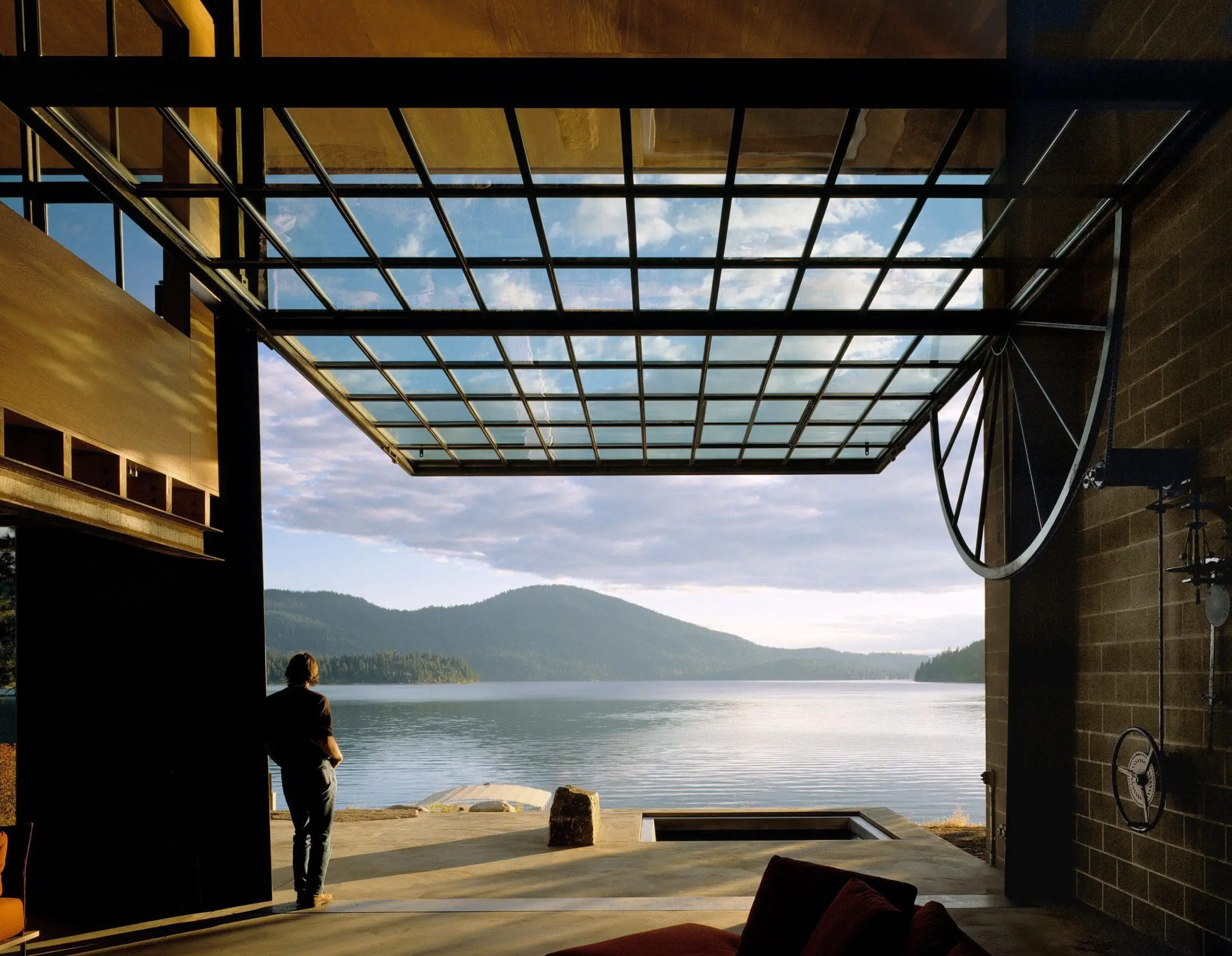 Chicken Point Cabin
Northern Idaho
Chicken Point Cabin
Northern Idaho
Design Principal

Tom Kundig
The owners of Chicken Point Cabin bought the waterfront property—located half an hour from their house in northern Idaho—in order to build a lakeside cabin. Their intent was to use the house year-round, but especially during the summer, when the weather can get oppressively hot. Their directive was simple: make the house as open to the water as possible. The design response to this challenge was as direct as the request: a large pivoting picture window on the water side that literally opens the house to the landscape.
A manual hand-crank opens the 20-by-30-foot window wall. Employing a counterbalance principle through a set of gears, like that of a bicycle, allows a minimal input of force to pivot the six-ton steel-and-glass window. Although the gizmo employs sophisticated mechanical engineering, the result is not unlike the opening of a tent flap, allowing fresh air and unimpeded views to enter the cabin.
A plywood loft containing the master suite is suspended into the concrete-block shell and overlooks the living space, while additional bedrooms and service spaces are saddlebagged on the two sides of the main volume.
Team
Design Principal

Project Architect

Interior Designer

Debbie Kennedy

Publications
Awards
2005
Residential Architect Design Awards, Grand Award
2004
AIA National Honor Awards, Honor Award
Chicago Athenaeum American Architecture Awards, American Architecture Award
2003
AIA Northwest and Pacific Region Honor Awards, Honor Award
2002
AIA Seattle Honor Awards, Honor Award
Publications